Welcome to the CanWork June 2023 Update. This month we discuss the escrow (V3) smart-contract, the Quick Escrow feature in development, and our growing community.
State of Canwork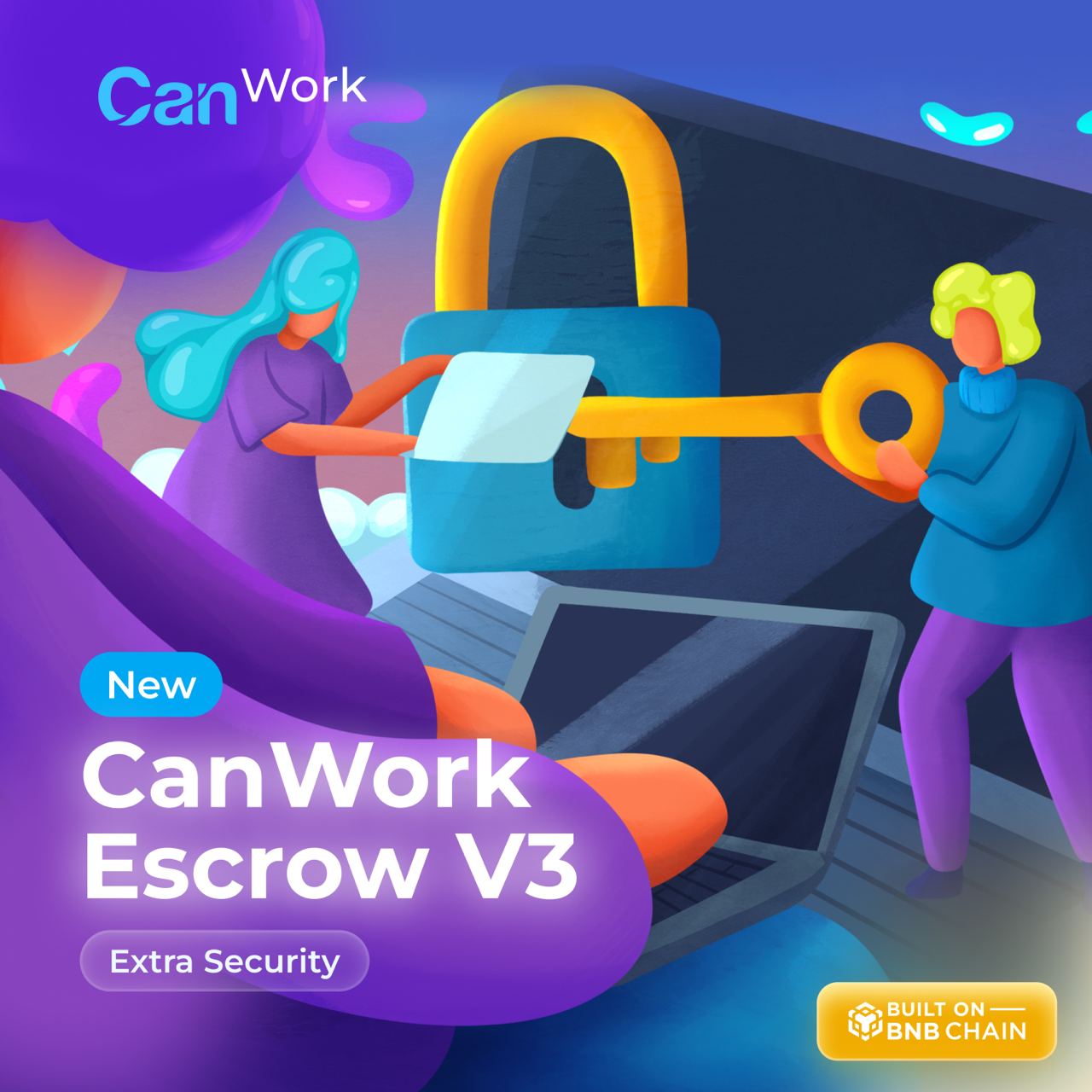 Framework & WalletConnect V2 Upgrade
We finally deployed the upgraded web-app to our testing (staging) environment, which will keep CanWork more secure & maintainable and easier to on-board new developers & contributors.
We've also deployed the necessary upgrade to the
WalletConnect v2.0 protocol
.
Soon, we will be inviting community members to test the upgrades on our staging site before we release the live version. Let us know in Telegram if you'd like to participate (there will be rewards).
Profile Unfurls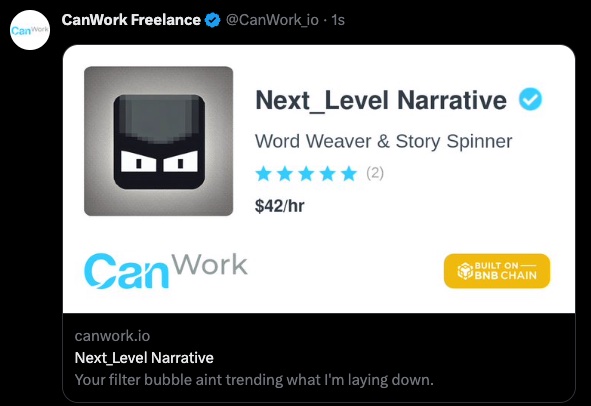 We fixed the profile unfurls which were not displaying properly on social media.
We still think the design could be improved, so if you have skills in making things look pretty using node-canvas, please drop us a line. You can see how it's currently achieved in our
unfurls Gitlab repository
.
Quick Escrow
Quick Escrow is an ingenious idea -- the winning idea of our community ideas challenge -- to remove barriers to entry to the CanWork platform and help our existing freelancers get paid in an easy manner.
How does it work?
If a freelancer secures a job external to the CanWork platform the freelancer can use this feature to
receive payment through our new V3 escrow without the client needing a CanWork profile.
No sign-up, or profile creation.
No going through the multiple steps of filling in a job request
No bidding or back-and-forth approval stages before payment is required!
This will be a one-page quick payment option available to verified freelancers.
The client will only need to connect their wallet!
We already have a proof-of-concept UI designed and a bare app that connects wallets & interacts with our V3 escrow. We're working fast to bring it all together for a minimum viable version of Quick Escrow.
Stay tuned for a full write-up, release & promotion of Quick Escrow in July.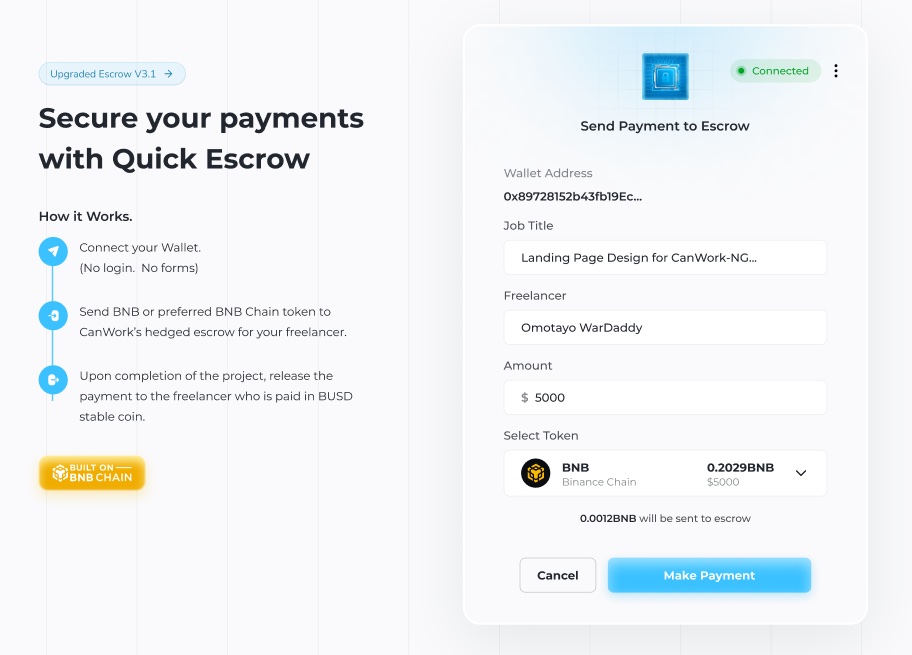 Development - What's next?
Over the next month, we aim to:
Test & release the framework & WalletConnect v2 upgrades
Focus on Quick Escrow development

CanWork Growth
While we create a super-charged payment interface for CanWork clients, we continue our business development goals. These include targeting the BNB Chain community, specifically other projects, to attract new clients to the platform. BNB Chain also offers a number of support programs for ecosystem projects that we hope to work with.
CanWork Twitter
Twitter is a powerful tool in this industry and we continue to make a concerted effort in this space. We've experimented with tweets and paid promotions targetting different demographics from both the freelancer & client perspectives. We are seeing positive early results.
We doubled our May impression, saw over a hundred new followers, more than a dozen new high-quality freelancer profiles, and more importantly, saw over $3000K of jobs put through the escrow by new platform clients!
If you are not already following the
CanWork Twitter Account
you should! If you are new, please say hi and talk to us about our verified status & custom profile URL's
Freelancer AMA
We're excited by the invitation to join an AMA in a freelancing Telegram channel this Sunday, 18th June, 20:00 UTC. Johan Lives will be talking all things CanWork and discussing the upcoming Quick Escrow feature.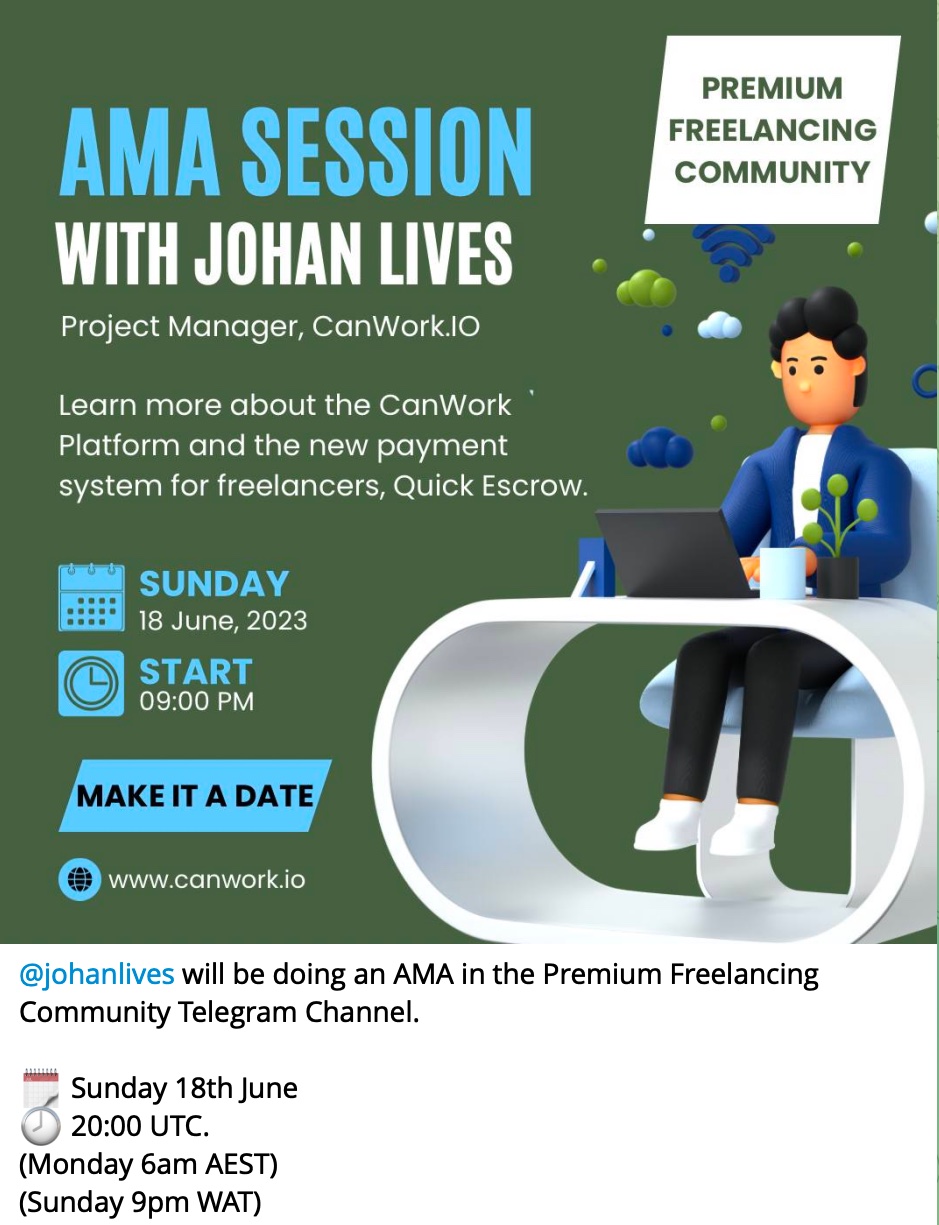 It's probably time to host our own AMA or Twitter Spaces event to give our own community a chance to talk to us. Let us know what you think of this in our Telegram channel.

We look forward to hearing from you all as we continue to grow the platform together. Please let us know if you have any ideas you think could take off or if you'd like to contact the team on any other matters via the links below. Chat to you all soon!
CanWork:
https://www.canwork.io/
Twitter:
https://twitter.com/CanWork_io
Facebook:
https://www.facebook.com/CanWorkPlatform
Instagram:
https://www.instagram.com/canwork.io/